Hello, my name's 
Leonardo Ferreira
and I'm a
Designer
by training, postgraduate in
Communication and Digital Design
by ESPM, specialist in
UX: Research and Prototyping
(University of California, San Diego) by Coursera. Nowadays, I'm Lead Product Designer at
NZN
and in the free time works as a freelancer developing projects of Design Thinking, Service Design, Customer Experience and Product Design projects (User Interface, User Experience and Business Design).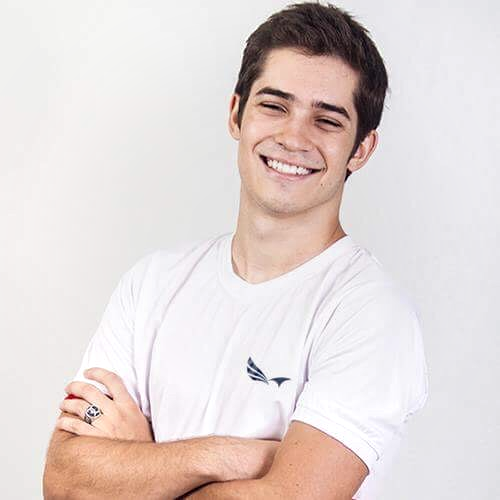 I am a Brazilian Product Designer with more than 8 years of career focused on digital products and services. I work as a Product Design Lead in the No Zebra Network (NZN), a brand that holds verticals like Tecmundo, Baixaki, ClickJogos, Não Entre Aki, Voxel, Mega Curioso, SuperDownloads, My Series, FikaDika, The Hardware Show and The Brief. I was one of those responsible for creating the rebrand of TecMundo, Baixaki and ClickJogos sites.I've worked with projects for major brands in different areas: Envato, VideoBlocks, Wattsense, Trello, Asus, Microsoft, Digital Results, Zendesk, Algar Telecom, Udemy, Udacity, Intel, Mackenzie, Google, Martins / Tribanco, IBM Brasil, OMO, Box and etc 
FerreiraStudios:
In 2015 I founded FerreiraStudios - one of the first YouTube Design channels that today has 70.000k subscribers and 3 million views, where I share reflections, design methods, tips of creative tools and insights about how to think design. In addition, when I'm not producing content, I work as a consultant on innovation and mentoring projects. 
ProductUp:
In 2019 I founded with two more tech partners the ProductUp - a content service focused on microlearning to promote continuous learning about digital product management. 
 Holistic and systemic view; Multidisciplinary; Readiness to share learning; Communicative; Focused on the user without forgetting how business rules; Culture driven by data and people; Strong energy applied to achieve business goals and KPIs; Constantly seeks resilience and tenacity; 
 #productdesign #productstrategy #businessdesign #userexperience #innovation
"Se criatividade for contagiosa, fique perto do Leonardo. Tenho muita admiração pela sua dedicação, didática, amor pelo que faz e o mais importante: a preocupação em gerar valor. Excelente como profissional, e mais ainda como ser humano."

 
- Rafael Frota (Designer)
​​​​​​​
"Conhecer o Leonardo e a FerreiraStudios é uma daquelas experiências raras de quando se começa a estudar alguma coisa e se depara com algo tão bom que nem acredita. A didática do Leonardo é simplesmente fantástica, todo o conteúdo possui um nível surpreendente e que me fez na maioria das vezes saber de coisas que só veria anos à frente na faculdade. Cada dia aprendo mais com a pureza e o talento do trabalho dele que não deixo de acompanhar de jeito nenhum."